In response to the recent fire devastation, local Humboldt County schools have shown that a helpful hand can create a big impact when everyone works together for a common goal. On October 12, Humboldt County Superintendent of Schools, Chris Hartley and Assistant Superintendent, Heidi Moore-Guynup declared a message of hope to all Humboldt County superintendents and through the organization's Facebook page.
The message was in response to several schools and individuals asking how they could help support the victims of this tragedy in a coordinated and systematic manner. The Humboldt County Office of Education (HCOE) partnered with Sonoma, Lake, and Mendocino counties recovery efforts to identify evacuation centers and their explicit needs. Schools were encouraged to target a specific center, discover what their supply needs were and create a distribution plan for getting those much needed items to that site.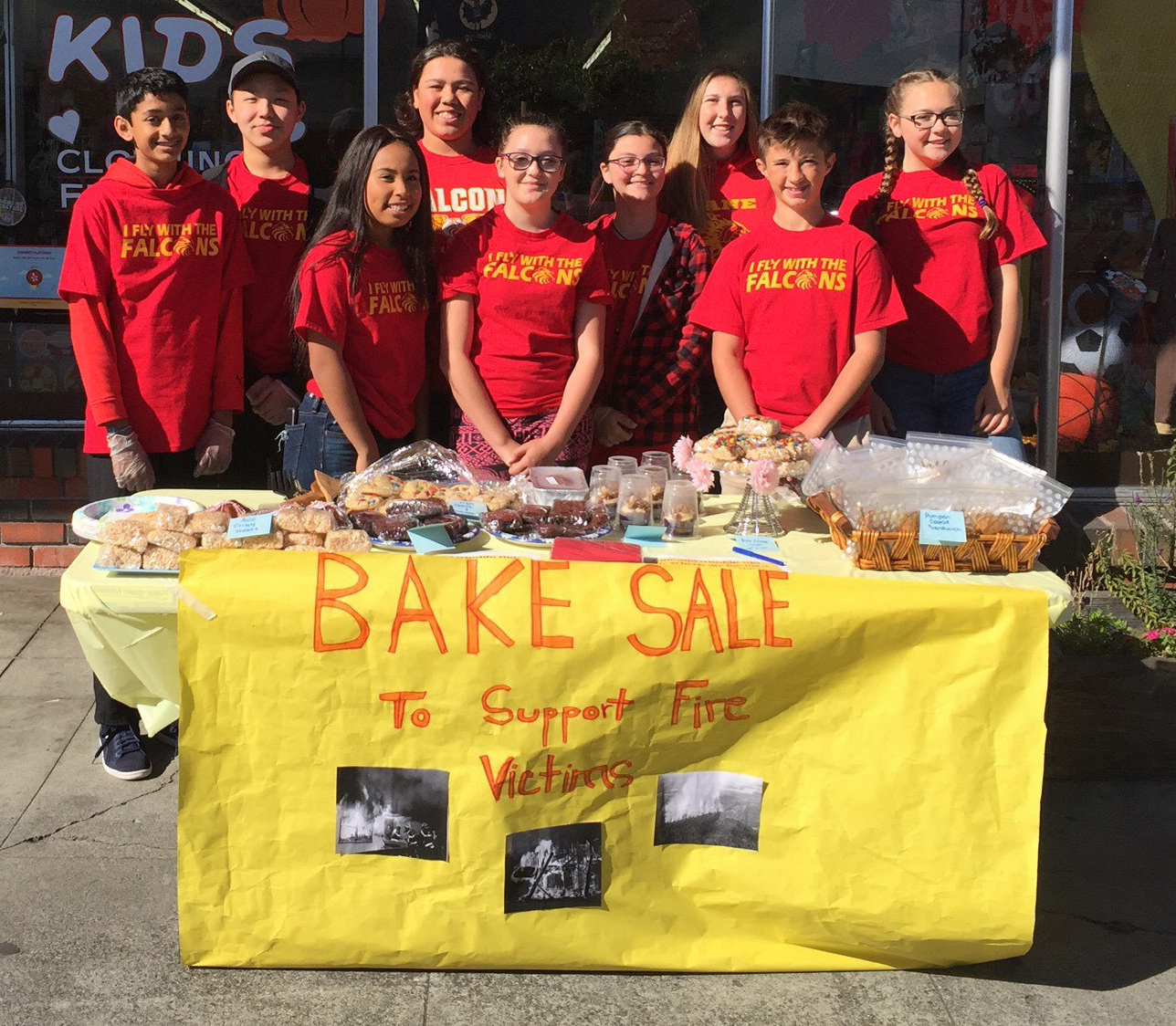 Several schools quickly jumped on this opportunity to support our neighbors and began collecting supplies, organizing bake sales and events to show support and gather donations for evacuation and triage centers. Fortuna and Ferndale High School were the first to initiate a response and collected tents, pillows, cots and blankets in exchange for free admission to the Huskie's football game to support Cardinal Newman High School in Santa Rosa.
Zane and Winship middle schools combined forces to raise over $1,000 by setting up a bake sale and an ice cream stand. One of the families who happened to stop by was one who had been evacuated and was in Humboldt visiting family, not knowing the full status of their life back home.
Bryn Albee was one of the students from Winship who supported this effort, and reflected, "I know that I probably wouldn't have been able to be sane if it happened to me, so to be able to help in some way feels like I'm really making a change."
Trinity Abercrombie, from Zane agreed, "It felt good to support the fire victims. I felt like I was doing a lot for people, even though it didn't take much work. It only took a little organization and for people to come together."  She went on to add, "A lot of people think that Zane and Winship are rival schools and don't like each other, so seeing us do something together might help people see the two schools differently.
Cuddeback, Peninsula, Scotia and Pine Hill schools collaborated by collecting books, crayons, games, toys and healthy snacks to deliver to the Lake County evacuation center. Local charter schools got on board by collecting gift and gas cards that displaced families will be able to use to replenish lost items. Others held flashlight drives, collected personal hygiene products or collected school supplies. In addition, Fortuna and Eureka's FFA (Future Farmers of America) delivered hay and feed to help many of the displaced animals throughout the affected regions.
Through a partnership with Sonoma County Section on Aging, local businesses have come forward to support the cause in other unique ways, including Vector Rehabilitation collecting walkers and medical supplies to contribute to the Sonoma Medical Equipment Recycling Center for those in need.
HCOE would also like to recognize Mendes Supply for their help in picking up and delivering these much needed supplies and donations to the Salvation Army in Santa Rosa this past weekend as well as Melissa Harnden for identifying those most in need. Additionally, members of Pay it Forward Humboldt have also been hard at work offering a variety of discounts to local businesses in exchange for much needed gift cards.
All donations collected throughout Humboldt County schools to date have been distributed to various sites throughout Sonoma, Lake and Mendocino Counties. Assistant Superintendent Heidi Moore-Guynup stated, "Events such as the fires to our south can be very confusing and troubling for children. One way for them to help make sense of all of the chaos is to come together to help others in time of need. Efforts such as these, where kids are helping kids, helps to grow the seeds of life-long empathy and compassion."
One more donation event is planned for the home football game at Eureka High School Friday November, 3. Folks who bring gift cards will be admitted to the JV and Varsity games for free. Plans also are underway to continue any outreach and support that may be needed during the rebuilding efforts. Stay tuned for opportunities to help support displaced families through an "Adopt a Family" campaign that will be coming soon.
For more information, to donate a gift card, or to stay up to date on Humboldt County schools' efforts and how you can get involved, follow and like our Facebook page at Humboldt County Office of Education. You can also contact us at (707) 445-7000.