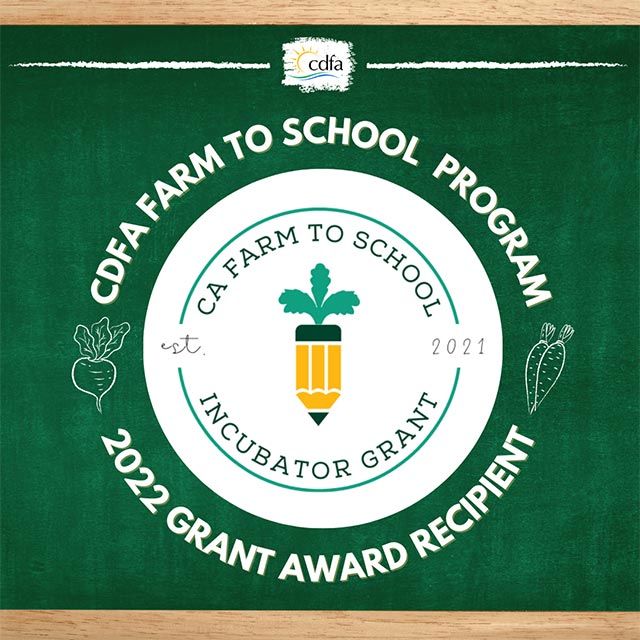 (Eureka)— The Humboldt County Office of Education's (HCOE) Nutrition Programs and Services has been awarded a Farm to School incubator grant totaling over $436,000. The grant award from the California Department of Food and Agriculture (CDFA) is seen as a prestigious accomplishment. The grant was awarded for its project titled, "Building Systems for Regional Farm to School Impact in Humboldt County."
The grant will be utilized by HCOE in working with Farm to School project partners to scale-up the local procurement model, make Harvest of the Month more accessible for afterschool programs, and create a Humboldt School Garden Collective to build school district partners' capacity to grow, maintain, and utilize school gardens.
HCOE's Erin Derden-Little, Farm to School Coordinator with Nutrition Programs and Services detailed the three components of the CDFA Farm to School project:
Local Procurement
To overcome local distribution challenges, HCOE has been acting as a purchaser of local produce on behalf of school districts. HCOE will transition the local procurement model to the North Coast Growers' Association and the larger scale food hub they are currently developing. This is expected to result in greater volumes of produce being made available to schools for more months of the year.
Harvest of the Month (HOTM) for Expanded Learning
HCOE aims to make its expanded learning HOTM curriculum more inclusive and accessible. It will engage families to include their voices, stories, and recipes in program activities. Materials will be posted online so that expanded learning programs anywhere in the county can access them at any time.
School Gardens
The grant will make possible a Humboldt School Garden Collective to support school gardens across the county. The collective will provide peer-to-peer learning opportunities, workshops, resources, and technical assistance to gardens across the county. Interns from the College of the Redwoods Agriculture program and Cal Poly Humboldt will support these efforts.
According to CDFA, this year's California Farm to School Incubator Grant Program received a record number of applications and funding requests, with 264 submissions and over $58 million in project proposals. HCOE's Nutrition Programs and Services joins over 100 Farm to School grantees across California as part of the 2022 Farm to School Incubator Grant Program.
For Farm to School program information, please contact Erin Derden-Little at 441-2072 or ederdenlittle@hcoe.org