(Eureka)— Twenty-four high school seniors, representing 12 schools, were honored as the Humboldt County Achievement Team in a dazzling in-person ceremony at the Sequoia Conference Center on Thursday, March 9th. The Academic Achievement process of selecting Humboldt County's Stellar Students showcases the exceptional talent, motivation, and tenacity of these young achievers, providing hope for a brighter future.
Karen Brooks, the HCOE Academic Achievement program coordinator, remarked, "To learn their life stories and accomplishments, while also knowing how bright their futures will be, is a testament of support and encouragement they receive from their schools."
The members of the Team were selected based on their outstanding academic performance, extensive participation in extracurricular activities, remarkable leadership skills, excellent communication abilities, and their commitment to serving their communities.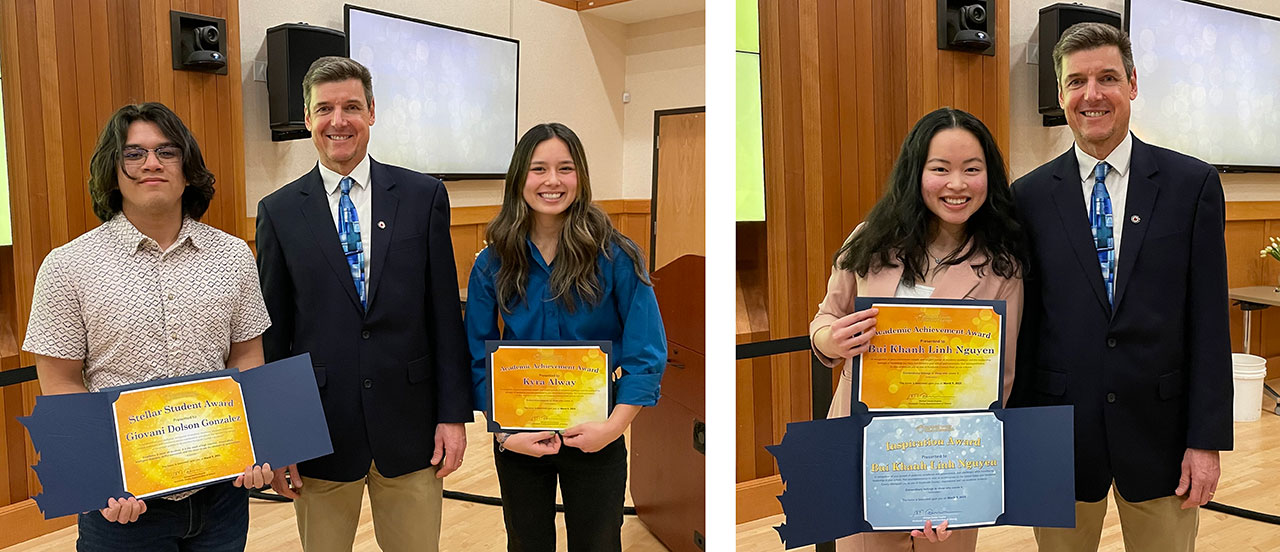 The highlight of the event was the announcement of the two Stellar Students for 2023, Giovani Dolson Gonzalez of McKinleyville High School and Kyra Alway of Arcata High School. These remarkable young individuals distinguished themselves as Achievers with their exceptional applications, transcripts, essays, and outstanding performance in interviews with the judges.
One remarkable student received an Inspiration Award for overcoming obstacles and setbacks to become a top academic performer while inspiring others. Linh Nguyen of Eureka High School was the deserving recipient of this award.
Michael Davies-Hughes, Humboldt County Superintendent of Schools, commended the students for their exceptional work both in and out of the classroom, stating, "The phenomenal accomplishments of these students reinforces my belief that our community and society have a bright future. Today, in the faces of these amazing students, we were provided a glimpse of tomorrow's leaders!"
The Student Events program of the Humboldt County Office of Education distributed scholarships worth $7,500 to the Academic Achievement Team. All nominees received a $300 scholarship, while the Stellar Students and Inspirational Students received an additional $200 and $100, respectively.
Congratulations to the 2023 Academic Achievement Team, who represent the very best of the next generation:
The 2023 Academic Achievement Team:
Arcata High School – Arman Abbassi, Kyra Alway, John Gerving, Alden Mauro
Eureka High School – Olivia Biesecker, Anna Grimmett, Taylee Mullins, Bui Khanh Linh Nguyen, Xavier Salazar, Sadie Smith
Ferndale High School – Lillian Chase-Rocha
Fortuna High School – Libby Johnston, Mariana Ramirez
Hoopa Valley High School – Nae-rew Martin
McKinleyville High School – Rebecca Barnett, Giovani Dolson Gonzalez, Scarlett Robinson
Bernard's Academy – Nathaniel Le
Academy of the Redwoods – Brian Feurman, Delaney Holland
Alder Grove Charter School – Abigail "Richard" Wagner
Six Rivers Charter High School – Tobias Swenson
Northcoast Preparatory Academy – Julia Davis
South Fork High School – Olivia Perkins
To discover more about HCOE's Academic Achievement, visit https://hcoe.org/aa-team or contact Karen Brooks at (707) 445-7563.